Did you know that 70% of a given population of horses requires full vaccination to prevent an influenza epidemic?
Vaccinations can be a complex process to manage for a group of horses. This is due to the many levels that make their schedules differ from one another. They rarely have the same due dates. They require different vaccines for different purposes at different ages and in different locations. All these factors contribute to an often-complicated regime. The effort that comes with planning vaccinations can set you back because it requires time to calculate due dates. It can be difficult to smoothly run the vaccination schedule in your stable especially with unconventional methods for planning and organizing.
Vaccinating the mare against Equine Herpesvirus (Rhinopneumonitis) during the 5th, 7th and 9th month of pregnancy helps to prevent disease which can cause abortion. Foals receive their first equine influenza vaccination between 5-6 months of age followed by the second injection 4-5 weeks after the first and a booster 12 months after. 'Hold on, let me stick that in the calendar!'. It's obvious that vaccination planning is necessary and requires some management to make it work efficiently. This article will discuss why we vaccinate at all and the vaccinations to use in occurrence with recent outbreaks. In addition, the importance of organized management and the tools available to help manage your vaccination schedules will be discussed.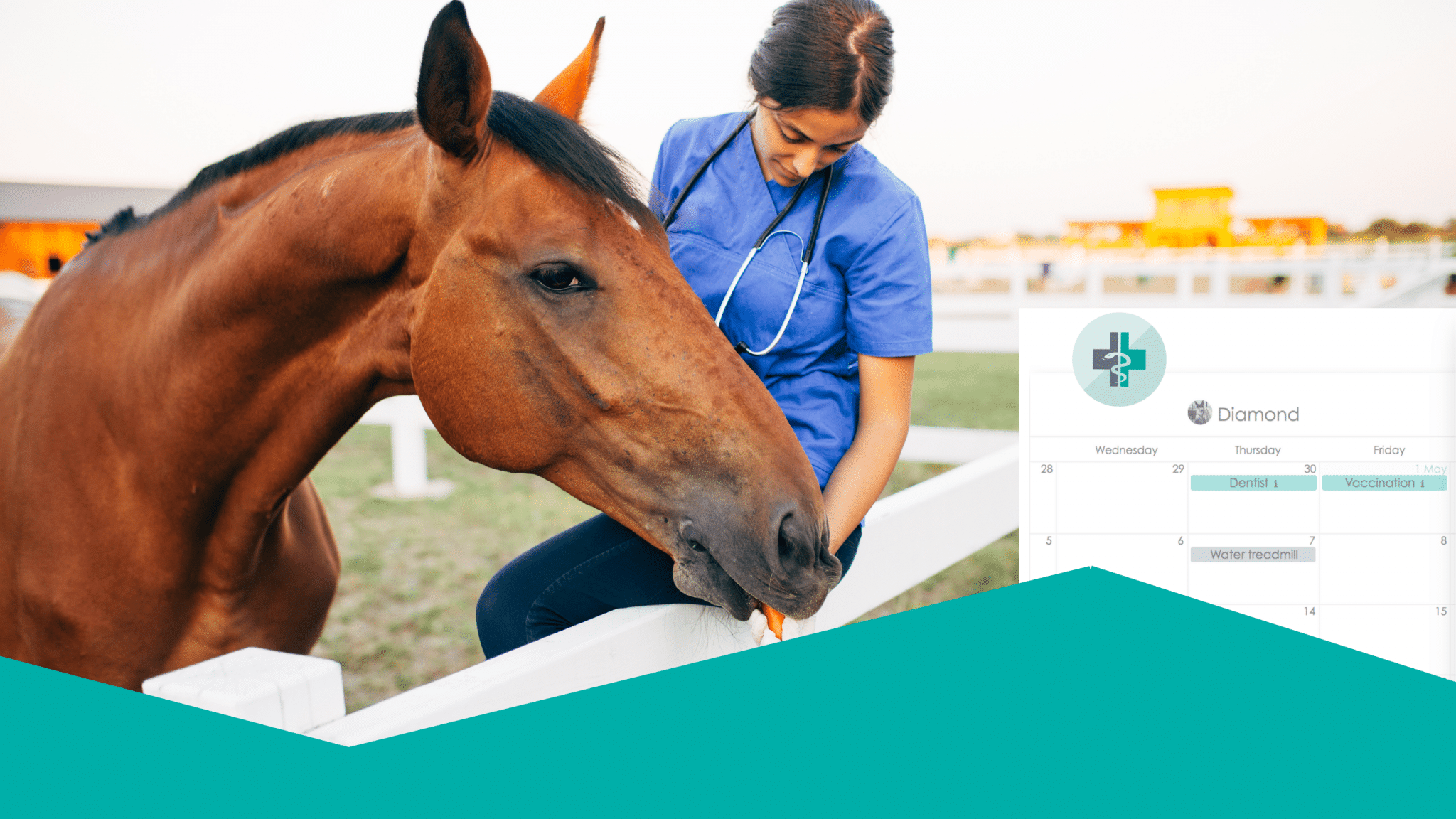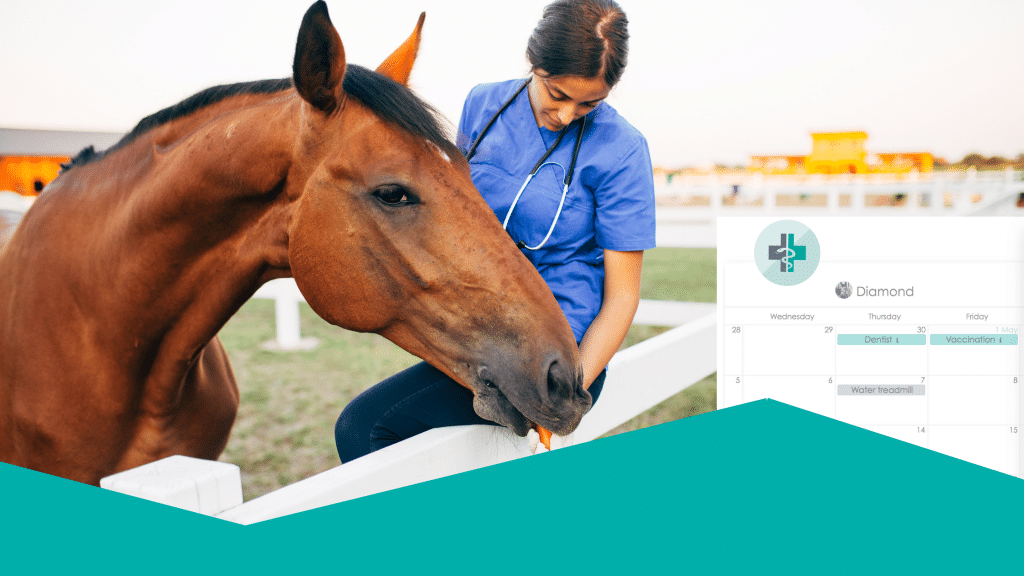 Managing the spread of disease through vaccination
The consequences of failure to vaccinate accurately and on-time is not just potentially life-threatening but can cause serious suffering amongst our horses when the disease spreads. Vaccination is required for immunization to protect the horse's body from infectious disease.
Vaccinations for Seasons
We should take the season into consideration when deciding to do vaccinations. That way, the horses can develop their immune systems before they are at risk of contracting the disease. It is advisable to vaccinate breeding stock before the breeding season begins and vaccinate horses susceptible to insect bites in Autumn to protect them from summer diseases. Serious diseases contracted during the summer season are Eastern and Western Equine Encephalomyelitis and Equine Infectious Anemia. It is a complex process to schedule vaccinations which requires a good management system.
Isolation
Isolating horses should not be dismissed, whether there is a new arrival to the stable or an outbreak occurs. Equine influenza is a respiratory infection known as 'horse flu' that we vaccinate our horses against annually. It can travel 45 meters into the air with an incubation of only 24hrs. Next time we see signs of a snotty nose and coughing, isolation should be the first move. Isolating horses from infectious disease is necessary due to their short incubation periods and ease of transmission.
Vaccinations to consider for your horses
From the Global Equine Disease Outbreak Report, the diseases with most cases in Europe so far this year were Equine Influenza, Strangles, Equine Herpes Virus Type 1 and 4 and Equine Infectious Anemia. Some countries have no cases of a specific infectious disease, whereas other nations have several cases. A list of common infectious diseases that owners can vaccinate against can be further expanded here. Horse owners should be aware of the potential outbreaks of infectious disease in their area. This way, they can apply the appropriate measures to ensure their horses are protected. This makes the travelling of horses for sales and competition a complex process to schedule vaccinations.
Sport Horses
Horses travelling frequently around the globe to compete in competitions such as the Global Champions Tour or FEI world Cup Qualifiers have difficulty with restrictions. It's hard to get the vaccination and quarantine scheduling right. The managers of these horses have serious planning and organizing to do to ensure their horses are free from disease. Adhering to FEI regulations on top of quarantine restrictions upon entering some countries to allow for testing can be complex. The same applies for horses being imported into areas especially where certain viruses have not been detected for many years.
Regarding common diseases of performance horses, we are more familiar with horse flu (equine influenza). FEI events require horses to be vaccinated against Equine Influenza and this must be recorded in the horse's passport. Other diseases that are common for sport horses to vaccinate against are rabies, tetanus and herpesvirus. Scheduling your horse's vaccinations helps you manage your time and vaccination intervals.
Breeding Stock
It can be tricky for breeding operations to get vaccinations right. Several diseases can cause abortion which directly affects the foal's ability to survive in the mare's uterus. Preventing the spread of disease inside their mares and stallions in the first place is the first step. Once the foal is born, the first 10 days are crucial, and we should be aware of foals developing rotavirus in the days following birth.
Getting the dates wrong or simply forgetting to schedule your horse's vaccinations for your mares and stallions before, during and after the breeding season can be detrimental to the development of foals. Adapt the mare's vaccination schedules to ensure that they receive the core vaccinations before the beginning of breeding. For the mare, Equine Herpes Virus and Equine Viral Arteritis is important not to dismiss in the mare's vaccination schedule. Often, foals are born and do not receive enough immunoglobulins from the mare's milk. Attention to the antibody levels that your foals receive during their first intake of milk is critical. This is the foundation for helping to build strength within the foal's immune system to fight disease.
Importance of Vaccination Management
Scheduling is the process of planning certain activities to achieve your goals within a certain amount of time. This means that in order to accurately vaccinate our horses on time, effort through an effective management process can help us minimize the spread of disease amongst our horses. Think of vaccinating your horses as a small ongoing project. This requires scheduling for due dates that pop up between doses of different vaccinations for different diseases. Solutions exist to make the process of planning individual horse vaccination schedules a success for horse owners.
Many of these solutions are offered as online management tools (equicty) to incorporate speedy features to help you work more efficiently. These smart features include calculating vaccination due dates through internal recurring functions and modifying vaccination appointments. The ability to store historical data of multiple horses and collaborating with stakeholders involved with the horse is also important for organized management. In contrast, there are poor management methods still existing today. Some which fail and fail again through poor decisions to use paper, notebooks and whiteboards. The reason that these traditional methods are not helping people to schedule more efficiently is because they only support the goal of vaccinating and not the process required to run successful vaccination management. This is not efficient for a group of horses that differ so broadly in their vaccination schedules.
The Hidden Potential of Digital Solutions
All we know is what digital solutions are capable of in terms of scheduling horse' vaccinations. How to uncomplicate your horse's vaccination schedule can be done easily with digital tools. First let's identify the pains that make digital tools the innovative step into changing how we manage vaccinations in our stables.
Pain #1: High Complexity to manage vaccination schedules
Managing vaccinations for several horses is a complex process since they require different vaccinations for different activities and are administered at different ages. When we split horses into groups based on their age, location and discipline, it helps to administer certain vaccinations to different segments. Digitally handling the profiles of our horses speeds up the management of vaccinating. For horses that grow up in an organized breeding operation, vaccination administration is easier to plan using stable groups. For competition stables that have horses being bought and sold on a continuous basis, vaccination scheduling and due dates are always different for each horse. This requires vet visits more frequently, higher expenses and a more complicated planning system.
Pain #2: Planning is time-consuming
Do you want to save time planning your vaccinations? With the automatic capabilities of digital tools, you can inform all stakeholders as soon as changes occur to the original plan. Digital tools look after the calculations and saves you tremendous time in speeding up the planning process. Calculating recurrences helps you to reach the individual goals of vaccinating the horses at the right time with as little effort as possible. Furthermore, online planning tools can be accessible on several devices which allow you to collaborate with key stakeholders from wherever you are.
Pain #3: Limited access to information
If you are still planning and documenting vaccinations using paper, you are without doubt not only limiting yourself and colleagues' access to your horse files but you are setting yourself up for major organizational issues. Digital tools allow you to remember what happened last, what did it receive, what vet administered the vaccine and where did it take place on what date. Most importantly, digital tools allow multiple stakeholders to access the horse's schedule from anywhere and at any time in the world in real-time. All this information is important for planning the next vaccination that follows. Digital tools allow you to manage these activities in one simple click.
Pain #4: Hard to get the dates right for vaccination
We get the dates wrong because the information is stored in our horse's passports which we don't familiarize ourselves with every day. Make the information in your horse's passport available digitally so that staff, owners and vets can access the health data of the horse much easier and faster. Be reminded on time and if you are not reminded, the staff involved are. If something else pops up and the reminder is set for 5 days before the due date, then, there is TIME to adapt the schedule.
Pain #5: Ignorance is lack of information
When people don't know, things don't happen. Bring your team together online wherever they are now and assign a responsible member of staff to manage the vaccinations. Watch over and see tasks become completed as you work digitally. Involving your team through a network of simple communication makes everything easier. Planning can be seen by who you want, and the task can be assigned to a member of staff. Notifications are what gives people information, let's start using them?
Pain #6: Modifications require too much effort
Vaccination due dates change for different reasons and can be brought forward or moved backward. It is time consuming and a lot of effort for the manager to inform involved people on time about changes in the schedule. This can cause miscommunication leading to potentially harmful mistakes. Modifying plans where vets, grooms and managers are notified can make last minute changes possible. One click can modify a date with the vet and automatically update the horse's schedule without phone calls. The amount of time saved in scheduling vaccinations allows us to put our time and energy on other important areas of the stable.
Take Home Message
Ensure you have enough time for essential tasks such as vaccinating your horse. This is important since after all, it can be the difference between life and death. It's our responsibility to promote lifelong protection against deadly diseases by scheduling our horse's vaccinations. The smart management of vaccinations can make your life easier as a horse owner, breeder or trainer. Check out equicty for digitally scheduling your horse's vaccinations and make your life with horses simple!
This information is for educational purposes only and should be consulted by your regular veterinarian regarding specific health concerns.
References
Roytz, J. (2018). Horse Health: Vaccination Record Keeping & Information is Key. Last accessed, 30/09/2020), available at: https://www.thoroughbreddailynews.com/vaccinations-record-keeping-information-seeking-is-key/
D.J. Baker, (1986). Rationale for the use of influenza vaccines in horses and the importance of antigenic drift, Equine Vet. J. 18, 93-96. Last accessed, 30/09/2020), available at: https://pubmed.ncbi.nlm.nih.gov/3698963/
FEI, (2020). Vaccinations. Last accessed, 30/09/2020), available at: https://inside.fei.org/fei/your-role/veterinarians/biosecurity-movements/vaccinations
House, A., M. (2016). Developing a vaccination and deworming programme for the adult horse. https://largeanimal.vethospitals.ufl.edu/files/2016/03/Equine-Vaccination-EDIS.pdf
Lane , T., J. (2014). Vaccination programme for horses. BS, DVM, University of Florida, Large Animal Clinical Sciences. Last accessed, 30/09/2020), available at: https://www.msdvetmanual.com/management-and-nutrition/health-management-interaction-horses/vaccination-program-for-horses
Traylor, C.,. (2020), Equine Vaccination Do's and Don'ts. Last accessed, 30/09/2020), available at: https://thehorse.com/192126/equine-vaccination-dos-and-donts/?utm_medium=Health+enews&utm_source=Newsletter