Every stable strives for team productivity to perform better. With an accelerated shift into the future digitalization of the equine industry, how can professional stables achieve clarity on day-to-day tasks? Moreover, how can they achieve the company mission with a team ranging from stable workers to administration to vets, farriers, and the horse owners themselves? Equicty has created the perfect workflow for top-class team productivity.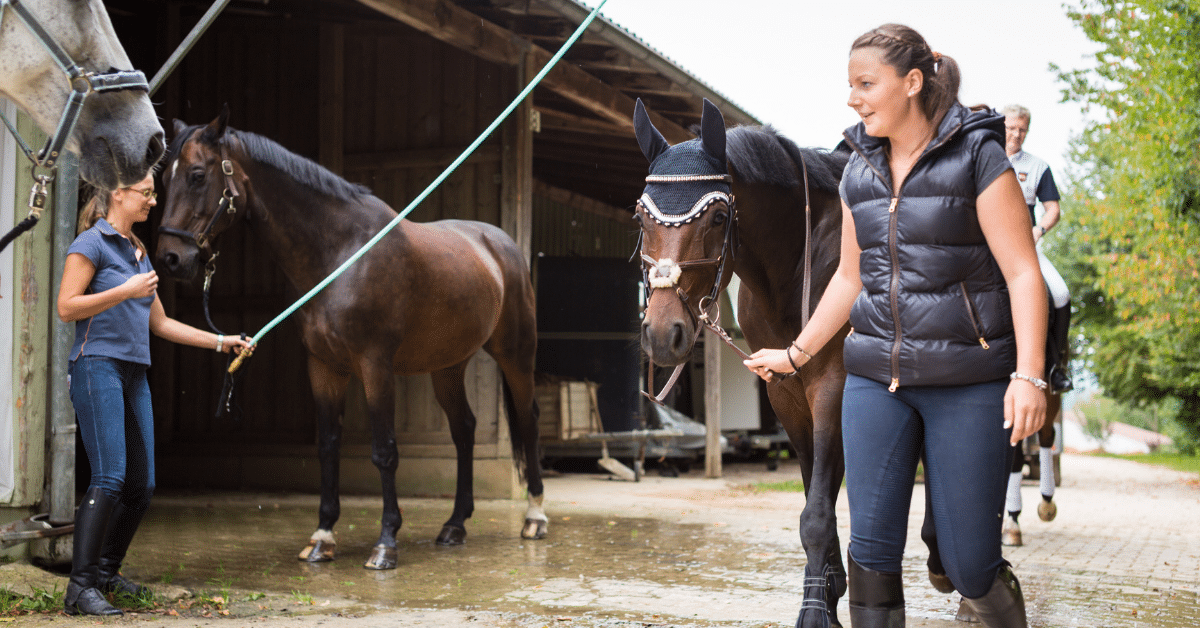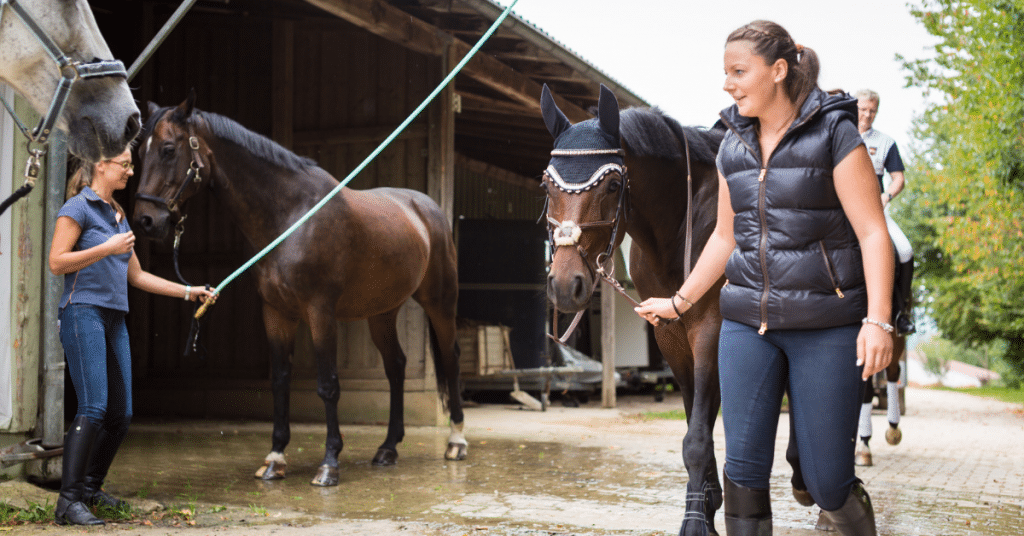 A Stable Management Platform coordinates and provides clarity on work, enabling teams to hit their goals faster. A study from Salesforce (2019) suggests that:
If you feel the need to reduce mistakes, improve riders', and grooms' collaboration then bring your team together by getting to know equicty's top features for enhancing team productivity! Here you can find why digital horse management tools will skyrocket team productivity in the stable.
#1 It Gives your Team Members Task Ownership
Working with horses takes a lot of responsibility and sometimes unexpected issues occur. A horse can easily injure itself and nobody knows what really happened. This can make it more difficult to understand why a specific accident happened. Equicty gives your team members ownership of tasks to try to collaborate on a higher level, thus improving team productivity.
The technological shift to managing stable activities has become popular online in the past few years. In terms of productivity, Equicty's Co-owner Samir Brahimi noticed that stables 5 years ago were missing a lot of efficiency and the importance of 'aligning members to an updated plan'. This is something equicty has done allowing stables to simply work efficiently. Moreover, team members notice time lost when they lack flexibility from disconnected whiteboards. Given, that they don't have a clear overview of their daily tasks.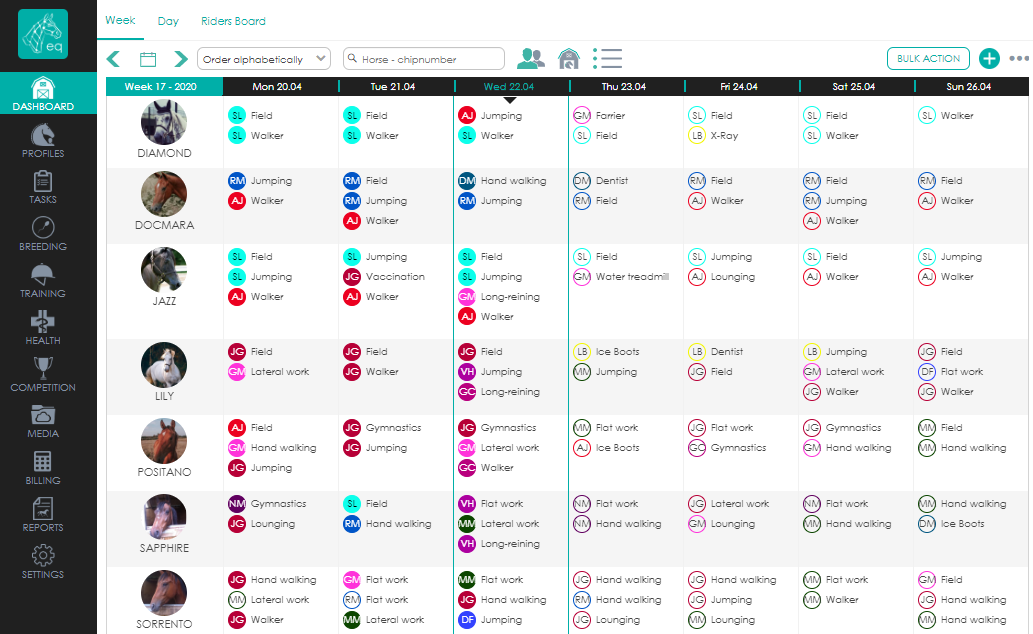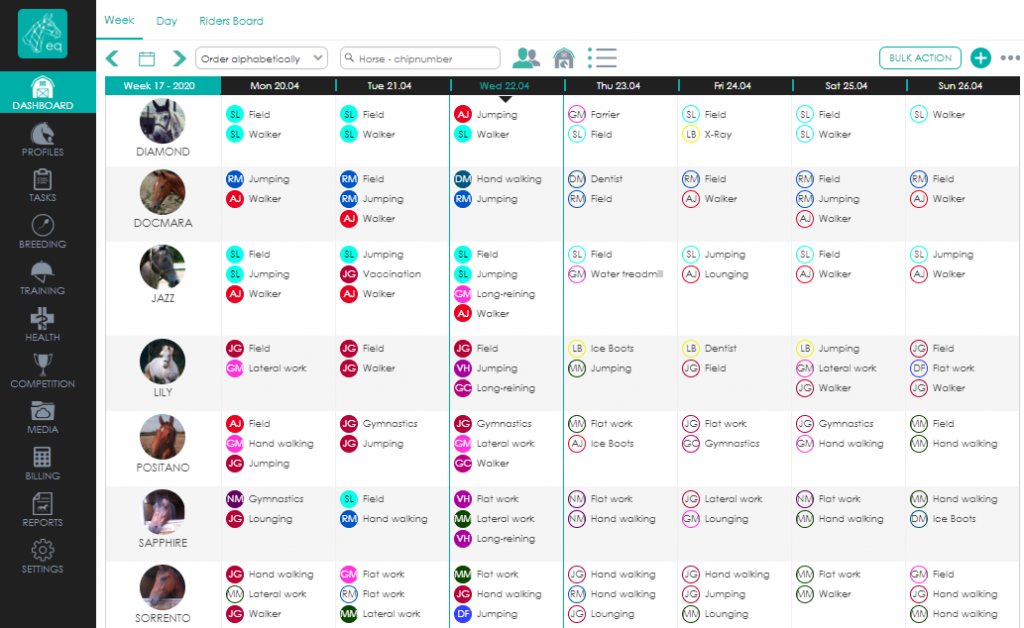 What Does equicty's Tool do to Help you Assign Task Ownership?
By officially assigning work to a team member, the team knows who is responsible for a specific task. Equicty allows users to focus on the tasks at hand. Teams can be productive when they know what they have to do, where to do it, and at what time. If there is a productivity issue, tasks can be more controlled depending on the person and the job.
What's even better is that online task ownership allows team members to check their assigned tasks from their mobile phones during the workday, their laptop the night before work or if the stable has implemented a smart stable board, then they can have a quick glance when they walk past. The point is that staff members can focus on the tasks that they have been assigned without wasting time reading a messy and ineffective whiteboard or screenshot.
#2 Online Communication Outweighs Face-to-Face
The exchange of information between a team is paramount to achieving team productivity in the stable. By setting communication expectations, team members know their duties and they can take responsibility for their work. Moreover, online communication comes with massive benefits from:
Receiving Feedback & Task Information in Real-time
Avoiding Misunderstandings
Flexible Planning & Coordination
Planning for horse stables is always a difficult challenge since changes are made regularly. This makes it difficult to finish up on time. Flexibility in the plan is necessary to avoid delays and allow for adjustment throughout the day. Equicty wants to help equestrians lives be easier by making organization and planning of stable activities fast, easy and effective.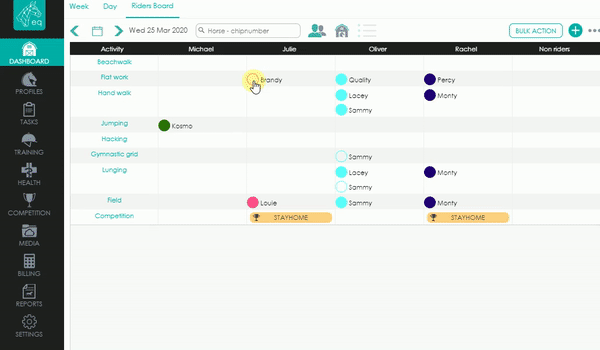 How Does equicty Help Improve Communication through Team Productivity?
1. If your stable has not worked with a digital solution, it will not get any more complex than the way you are currently working. I believe you are using multiple communication channels such as direct phone calls, Whatsapp, Facebook messenger & email. Instead, you can have everything in one place set up for ultimate collaboration amongst key members of the stable.
2. The traditional way of managing a stable has several downfalls in regard to the general stable plan. This is due to the regular changes and updates that are necessary during the day or week. For example, when a horse or rider gets injured unexpectedly or the vet and farrier need to change their appointments. With equicty, your team will be less prone to errors and planning failures as they will be connected and updated about the task changes in real-time. What good is a whiteboard, without going back to check it and update it for the 20th time in a day?
#3 Riders & Groom's Feel Aligned from Better Team Productivity
The use of a digital stable management application helps the stable team feel valued and motivated to work together. Instead of having a team that is drifting apart from each other, you can help them. Digital stable management brings your team together whether they are at home, at a competition, or traveling. Tasks and responsibilities are clear to each individual making it easier to work together as a team. Equicty promotes team productivity through an open plan which is always up-to-date but with the option to manage user permissions for privatizing confidential information.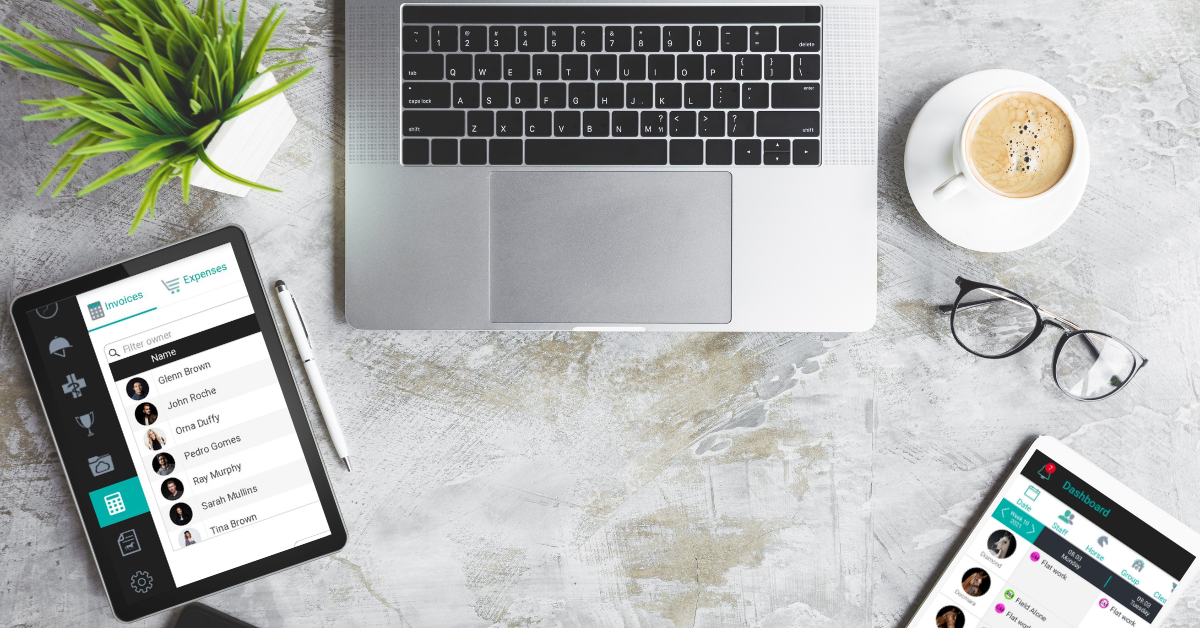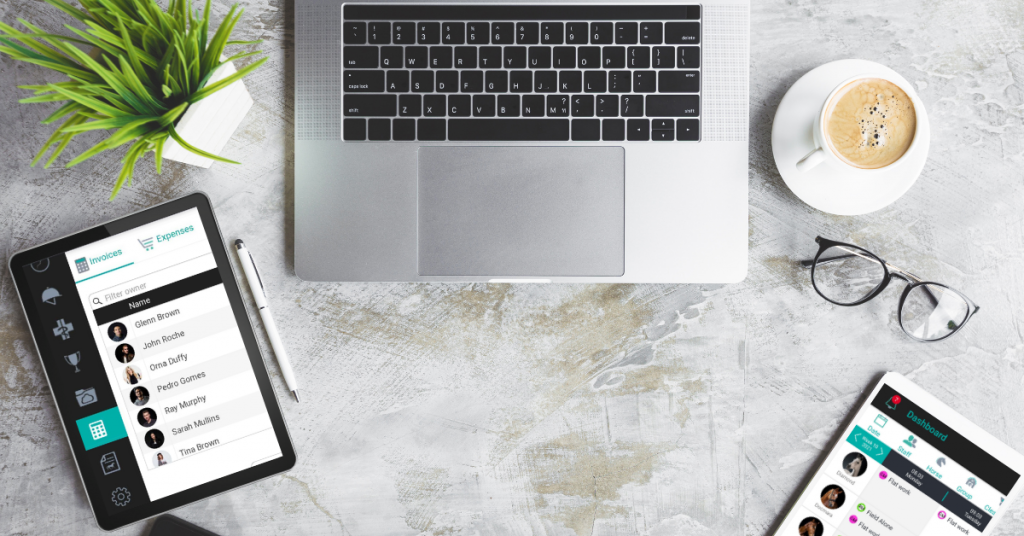 How Does equicty Help Align a Stable Team?
1. Promote collaboration through notifications, task assigning, and setting reminders on tasks that must be completed at a specific time. This aligns staff members, making sure that there is a clear work environment that incorporates the health and training of the horse.
2. An aligned team is an organized team. All contact details of key staff members should be accessible to the team. In the case of an emergency, if they need a vet, farrier, a rider, or any specific person involved with the stable of horses, they can be contacted from an organized list of contacts. This ensures the safety of the team and horses is prioritized.
#4 Team Productivity Allows for Feedback
Feedback is so important when it comes to adapting a stable management plan that works well for both staff and horses. The staff is at the forefront of the entire stable operation, they know how the horses are feeling and their opinion should be considered to make better decisions. Ask them how things are doing there and allow them to give feedback to improve things.
Collecting feedback from staff is simple! Stables are busy places to work, especially when some team members are traveling to competitions or have taken the horses elsewhere. To keep team productivity high, discuss how the stable is performing and exchange ideas using equicty to keep up-to-date with what's really going on.
How Does equicty Help Teams give Feedback?
1. In this situation, it's possible to take notes under each task set out or completed. This allows the entire team to understand the little details on the horse's performance during the session or what should be done next time. It is the perfect opportunity for the staff member whether rider or groom to express their opinion and allow their feedback to be heard.
2. The person responsible and any member that has access to see each others' tasks can make a comment or write a note in the description part. This is very useful when the physio, farrier, or vet makes a visit to the stable.
#5 Connect Stakeholders & Work in Teams
For the larger stables that have multiple bases operating simultaneously, keeping everything connected is important. Splitting teams and horses into different stable groups help increase team productivity. This means that horses, staff, horse owners, and equine professionals are all users on your sole account no matter the location or stable type.
All expenses related to each task, every report, and every task ever made will always be accessible individually or together. Does the teamwork in the stable know what their objectives are? Ensure that clear objectives are set and goals are met to operate the stable at the best operational efficiency and standards set out. Each stable has its own way of working and the team behind it all is what will execute the desired way of working. Make sure your expectations of one another are clear.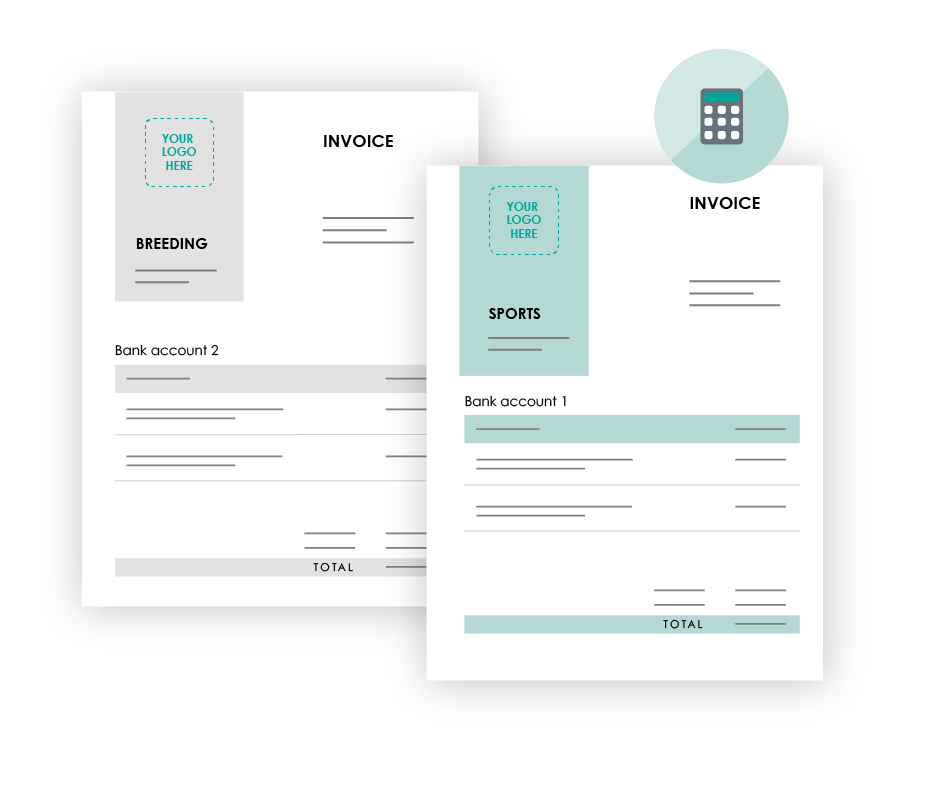 How can equicty Help Improve Team Productivity to Connect one Another?
1. The weekly plan or invoicing of the stable can be managed by the stable manager but the horse owner or the rider can play a big role in setting the plans for the horses. Regardless of the ownership of the plan, each assigned member of the team has responsibility for their tasks. They may have received notes with more precise expectations which could involve the type of shoes a horse needs or for what reason it must attend the vet.
2. Equicty promotes team productivity by allowing media files to be easily accessible. If the horses and team are traveling and need specific documentation, their files can be accessed from their profiles, the same goes for videos and images and maybe even flight tickets and contracts. All relevant expenses can be invoiced to the owners after a set period.
What about Horse Owners?
Equicty allows stables to manage the relation the stable has with their clients and horse owners. Consequently, ownerships of horses are sometimes more complex than we'd like in terms of allocating expenses but with equicty we help you state the exact percentage that each owner holds in the beginning so that you don't have to do any calculations.
At the end of the month, the owners of horses can be easily invoiced because each owner is assigned their % share in ownership making the splitting of general expenses and the gaining of prize money easy to automatically be split. This way the system will save you tremendous time and help you avoid mistakes which in turn is a big booster for productivity.
Summary
Here, I will explain why equicty is the ultimate stable management tool to boost team productivity. In fact, tasks can be assigned to users whether you are the rider, groom, vet, farrier, or horse owner in some cases. The stable manager or planner has the flexibility to plan their stable board from wherever they are. The assigned people have access to their tasks from wherever they are. Equicty's application allows the planning and assigning, editing, and completion of tasks to be done online. All key members can access their tasks through their mobile phone, tablet, laptop, or smart stable board. It must be obvious by now that this tool is a big team productivity enhancer, right?
In addition, the same applies to when your team attends a horse show. Always keep the transparency of the duties accessible so that somebody always knows what's happening, no matter where they are.
If you require a digital solution to help you improve your organization and efficiency in your stable, try equicty. Save time, money, and stress by finding the best way to manage your stable. Try equicty's 21 day free trial today and receive expert support during set up.