Isn't it your dream to implement efficient stable management?

Can you imagine if you had complete control over your stable activities? With the aim to achieve maximum productivity from anywhere in the world, at any moment?

Taking care of and tending to horses is a full time job which requires a lot of time and energy. In this dynamic industry, making that necessary shift to a digital stable management system can help your business save time. In addition, operate more efficiently. Efficient Stable management is more than just feeding the horses and mucking out the stables, it's also about optimising your stable operations. This can happen through communication, planning and organising stable activities effectively. This article will delve deeper into the importance of why a management software can help improve your company's overall efficiency. Today you will learn what it's like to have an efficient stable management workflow.

Saving valuable time
How fast are you at communicating day-to-day activities in your stable? Planning and executing all tasks related to your stable management costs a lot of time and energy. Did you ever think that this could be affecting the efficiency of your stable. In many equestrian companies, distributing this essential information seems to be a difficult and chaotic process. One reason is because all communication runs through various channels. Digital Stable management helps you to locate the information you store about your horses needs. This allows you to engage your team, ensuring speedy planning of appointments, instantly retrieving historical information on a particular horse or assigning tasks to employees for the week's schedule. You no longer lose valuable time in collecting and communicating all pieces of information. This leaves quality time for your true passion: the horses.

Constantly Up-to-date
Effective communication between employees, owners, vets, and farriers means that all parties are instantly up-to-date. For a stable to work efficiently, it is very important to seamlessly coordinate administrative activities without losing sight of the care of the horses. In the case of an unexpected situation or a change in the set plan, all users have the possibility to speak up about the issue. This means updating other users immediately by push notification. The faster users can provide the information to other team members, the faster a task can be modified. This can help you get your mare inseminated on time or more seriously saving your horse from severe colic. In addition, they will be able to add and adjust information at all times and from every location or device. Efficient stable management makes sure the horses are taken care of as they should and keeps all parties informed.


Centralized Platform
Have you ever been frustrated when you couldn't locate a file? How about the struggle to fetch a horse's health record, media file, training schedule, or send an invoice to the next owner? Having one platform to enable you to carry out your service at the optimum level is a way to digitally manage your stable effectively. Having a central platform to hold key information is crucial when it comes to executing tasks. An efficient stable management system can be the perfect solution to get a better overview of all executed and planned activities. In addition, to streamline all communication with the parties involved. Implementation of efficient stable management helps you to optimize all activities in one centralized platform.
Simplify Administration and Invoicing
Every business has to deal with administrative tasks and that's no different for equestrian companies. If you have several existing owners and horses with different needs such as separate farriers, medications invoicing can get complex. Distribute these different products on automatic templated invoices in just one click. In addition, you can grant potential clients access to files via a link. How easy it can be!
Efficient stable management through stable management software can significantly enable this administrative flow. It also enables you to create the necessary reports and excel files for a clear analysis. Analyse medical treatment history, rehabilitation training plans and clock in time of employees for the year. After all, taking a closer look at your administration activities helps to optimize your stable management into a process that's the most efficient.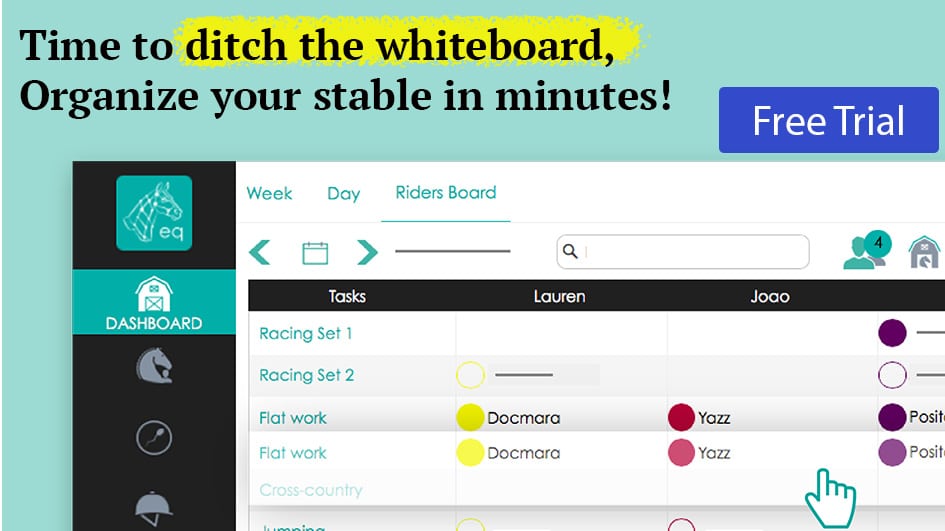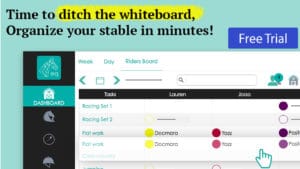 Transparency and Better Decision-Making
Traditionally, stable management was carried out in many stables based on intuition rather than facts, figures and analyses. As a result, this gives an opportunity for human errors to surface, therefore harming the welfare of the horses and the reputation of the business. Since professionalism and honesty are important in the horse business, efficient stable management with the right software can be a true added value. It gives stable managers the opportunity to be transparent about the entire process of stable management and to make the right decisions from experts based on the track record of the horses. For example, a rehabilitation program can be planned with the stable manager and veterinarian and carried out by the grooms and riders with a note requesting progression after each training session.

→ Efficient stable management, therefore, ensures a streamlined flow of information and tasks concerning the care and maintenance of the horses. This makes it an indispensable asset in every horse company that wants to grow and be successful in the future.
Would you like more information about efficient stable management and discover how equicty can help you? Then contact us quickly! We're happy to discuss the various options with you.